Genting Highlands understands that people nowadays loves to take nice photos and share on their social media account. In order to fulfill this MUST DO move, they had developed many "instagramable" spots with nice background for visitors.
云顶的管理层了解到现代人都爱拍好看照片然后再上载到社交媒体。为了满足这项需求,他们开发了许多热点让游客拍照。
1.Sky Avenue Interlink Bridge 云天大道桥
People who saw this background will definitely knew this is SKy Avenue interlink bridge. It has become top hotspot to take photo when Sky Avenue has open.
当大家见到照片的背景时,肯定都会知道地点在哪里。云天大道开张之后这里成为了其中一个必定来朝圣拍照的热点。
2. Festive Decoration 节日特别装饰
Every malls will do their own festival decoration during every festives, in order to attract visitors to take photo. Genting Highland's Sky Avenue is doing the same thing too. But this photo isn't same with others, its located on 6000feet high.
每一间商场每逢不同的节日都会拜访相应的庆典装饰以便吸引游客到来拍照。云顶的云天大道也不例外。但是这里拍的照片并不一般,这是位于6000尺高的照片。
3. LED Display
Sky Avenue has installed massive size of LED display. It's showing different graphic from time to time. It also combine the graphic with 1,001 winch ball to showcasing an extraordinary orchestra of audio, visual and motion graphics programming.
云天大道装置了非常大面积的LED。每个时段都会展现不同的画面。它也结合了画面以及1001枚光球制造出动态变化和电影视觉效果的互动,为观众打造出一场无与伦比的视觉盛宴。
4. Food street decoration 美食街的装饰
The decoration at food street is different from other place in Genting Highlands. It has the street look & feel, that almost confuse us that we are actually at the highland.
美食街的装饰与云顶其他地方的装饰不一样。它有着街景特别的面貌,有时甚至会让人忘了我们其实身在高原呢。
5. Chin Swee Caves Temple 清水岩庙
Chin Swee Caves Temple was officially opened on 29 March 1994. Remember to take photo with the iconic nine-storey pagoda lit by lamps, the Sky Terrace, and the 15-metre high statue of Buddha.
清水岩庙于1994年3月29日正式开张。记得到这里标志性的九层佛塔、天坛和15米高的佛像拍照哦。
===== =====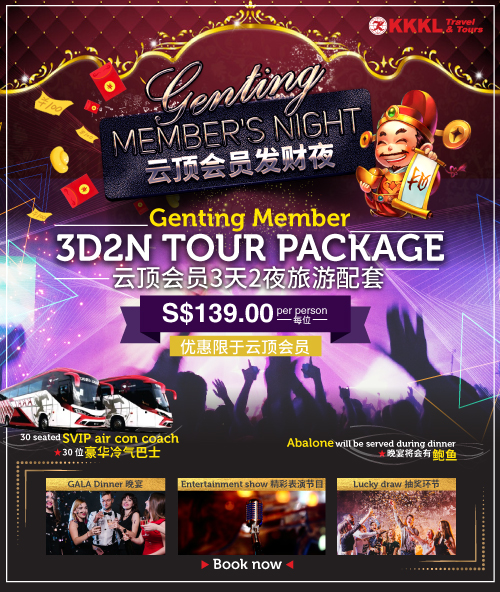 Wana go for tour to Genting Highlands?
Feel free to contact us for booking and information @ (+65) 6348 6909 / (+65) 6294 8909
Or you can make booking at Book Here
想要到云顶高原游玩吗?
您也可以拨电致 (+65) 6348 6909 / (+65) 6294 8909 来预订旅行团配套
您也可以到以下网址预定旅游配套 Book Here
===== =====
6. Snow World 雪花堡
THere is not much place is suitable to Snow World theme park in Malaysia. It's a sub-zero environment, complete with life-like snowfalls. Be sure to get your cameras ready as you don't want to miss the magical moments.
马来西亚极少地方适合建造雪花堡娱乐场。这是个零度以下的环境以及超自然的雪花飘零。千万别忘了在这奇幻的场景拍照哦。
7. Talking Garden
A "talking" garden? Yes. It communicates with you via Quick Response Codes (QR Codes) and Near Field Communication Technology (NFC). The flora and fauna grows very well, so you can have many beautiful plants as your background when taking photos.
会说话的花园? 没错。这个花园使用QR Codes和NFC来跟您沟通。这里的植物长得非常茂盛,所以你在这里拍照是有非常多漂亮的植物衬托当背景。
8. Theme Park Hotel (Hotel On The Park) 丽园酒店
Theme Park Hotel has become Genting Highland's one of the most required hotel. You can literally take photos in any spots in this hotel once you entered.
自从丽园酒店开张后迅速的成为了云顶高原最火的精品酒店之一。基本上在进入了这家酒店后,任何一个角落都可以成为你拍照的地方。
9. Sky Casino Entrance 云天娱乐场
With the reopened of Sky Avenue, it comes with the new indoor casino – Sky Casino. The outlook of Sky Casino entrance is just nice to take a nice photo.
云天大道开张后,同时也迎来了新的云顶室内赌场 – 云天娱乐场。它的门口外有一个非常适合拍照的角落。
10. Starbucks 星巴克
Nothing can beats a cold drink in a cold weather. Starbucks here had a lot of youngster come for photo taking purpose, especially the outdoor.
冷天里没有什么能比上一杯冷饮。许多年轻人特意来到这里的星巴克来拍照,尤其是室外。
===== =====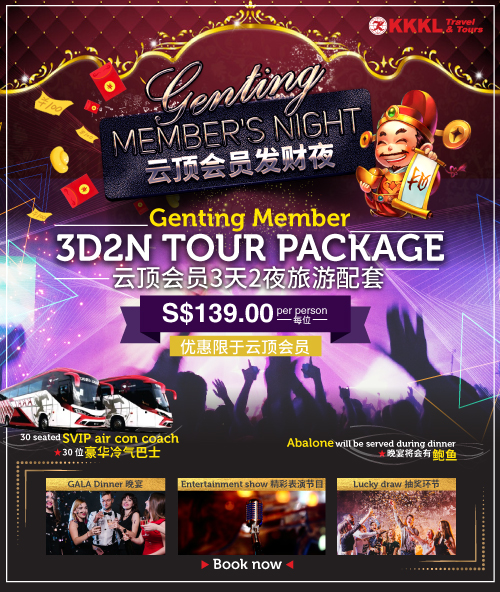 Wana go for tour to Genting Highlands?
Feel free to contact us for booking and information @ (+65) 6348 6909 / (+65) 6294 8909
Or you can make booking at Book Here
想要到云顶高原游玩吗?
您也可以拨电致 (+65) 6348 6909 / (+65) 6294 8909 来预订旅行团配套
您也可以到以下网址预定旅游配套 Book Here
===== =====
Disclaimer: All the Instagram photos in this article are own by respective Instagram account holder